We find Sonia and Philippe Taine winners of the 2021 European Cup. After this exceptional year 2021 in every respect, the team that enabled our duo to reach such a high levelis coming fromn the breeding loft. Like a football team that wins the World Cup, how do you deal with the aftermath?  One thing is for sure and you will soon realise it: unlike the french football team, we will certainly not wait 20 years for the next victory.
"In the end, we weren't really even aiming for the European championship, but the season went wonderfully well and the more the weeks went by, the more we thought we would be well ranked… But we didn't expect to be the winners!" . What made this result possible was an outstanding team from a well-controlled selection. At the Taine loft, Sonia maintains a close relationship with her birds: preparation, observation… She knows them by heart, and she knows how to insist on entering certain pigeons that Philippe would not have dared to put in (see video). Philippe has a real golden hand and a total determination. He has a passion for genetics and has studied all the theories on selection to draw his own conclusions. In short, it's the difference between knowledge and know-how. With "know-how" you have a certain capacity of adaptation which is essential in our hobby to adapt a pigeon breed to a particular topography, geography or even climatic conditions. Of course you have to have the basics, but in this sport you can ask yourself if knowledge is really useful compared to know-how, because each colony is different.
The term "basic breeder" is one you have read over and over again, especially in the period of the pigeon auction market and other voucher sales where you are offered pigeons from "basic breeders" all day long. Finally it is a very common term, very normal if you take the pigeon racing aspect as a whole. But what is normal (especially in Dricourt)?
Gaia is the mother of
Tyson, 1° AS European pigeon 3 prix 2021, 1
1° AS pig CIF 3 prices 2021
1° AS pig REGION EST 2021
3° AS pig CIF 2 prizes 2021
3° best pigeons grand-fond 2020-2021 – 3 prizes PIPA RANKINGS 2021
1°,2°,3° GRAND-EST BARCELONA 308p 20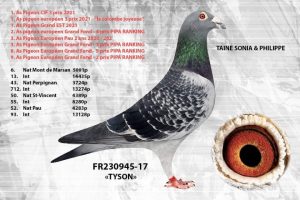 Above, Tyson, 1st European Ace Pigeon. On the dam side it is obviously Gaia bred to "le Carteus" FR08-375472. see the pedigree of  230945-17 bis
Adeona is finally Tyson's half-sister, she is a pure Beaujan (Didier), indeed the father, Ouranos comes from this colony. Philippe explains "we wanted to go all the way with the Beaujean breed to see how far they could go". Mission achieved, 231517-15 bis
Valentino is a bit younger, we find in his pedigree the basic Beaujean couple with Gaia and Ouranos. His father, FR15-231541 "the Le Jeune" of Beaujean breed, was bred to 621 which is a product of the loft Taine a judicious choice allowing to create this magnificent Ace pigeon 230971-17 bis
Autre pigeon dont les origines sont historiques de cette colonie, l'As 997, spécialement affuté pour Marseille. Sonia et Philippe sélectionnent une lignée particulière pour la ligne l'Est. Pedigree de l'As 997
Saison 2020 
2° championnat femelle CIF
5° Nat Marseille 3925p
11° nat Marseille femelle 1144p
12° Nat femelle Pau (35 inter)
31° championnat général vieux CIF
Saison 2021 
Vainqueur coupe d'Europe
Champion d'Europe au 1e inscrit
Champion d'Europe aux 2 premiers inscrits
Champion d'Europe aux 5 premiers inscrits
1° par équipe au championnat MCGC-CIF
1° As pigeon CIF 3 prix
2° championnat femelles CIF
3° As pigeon CIF 2 prix
3° PIPA IATP 2021
3° PIPA ranking meilleur vieux européen grand fond 3 prix
4° championnat général vieux CIF
4° championnat au 1er inscrit
5° AS pigeon CIF 3 prix
Saison 2022
1° As pigeon Pau 2020-2021-2022 CIF
3e championnat général international fond club des Ardennes
26° General vieux CIF
22° au 2e inscrit CIF
quelques beaux résultats :
10°, 48°, 200° … Nat Bordeaux / 5161p
13°44° Nat Bordeaux femelles / 1323p
30°, 146°, 635°….inter Bordeaux 15430p
42°, 145° inter Bordeaux femelles 4236p
17°, 97° national femelle Tarbes / 927p
27°,294° international femelles Tarbes / 2318p
34° National Marseille /3191p
15° Nationale femelles Marseille /95p
37° International Marseille femelles / 2633p
….