We no longer count exploits of David Brunet colony, French speed champion in 2020 this year again he excels! In 2021 it's a festival of first prizes and Ace pigeons, results of Dunkerque province have just fallen: 1st in the most prizes championship, 1st in the first five entries championship, 1st in the championship 1st entry …
In 2018n, he was France vice-champion in middle-distance and third in the Nord-Pas-de-Calais (the first pigeon fanciers region in France) old championship in speed. This was thanks to the famous Turbo 624, a pure Leo Heremans. The descendants of the Mustang also shone, the FR18-252235 and the FR18-252145. The Mustang is a pure Strickers-Donckers, four consecutive years AS Pigeon in middle-distance (from 2013 to 2016).
French speed champion in 2020, David concluded the year 2021 just as beautiful, we no longer count his performances. On July 18th, at Pont-Sainte-Maxence, he won the first 12 prizes and at the same time achieved a 100% ratio (23 prizes for 23 registered pigeons) with a northeast wind.
Photo: David has the chance to have one of the most beautiful arriving: at the leftwing, Flanders mount, at the centre Hazebrouck and at the right Audomarois (Saint-Omer region). 
A single watchword
David has solid bloodlines, during our visit to his home this summer he explained to us "From now on I do a round of youngsters with only best pigeons, old travellers with multiple top prizes such as the Mustang and the Turbo. These are inbred breedings to preserve the stock". With such a stock there is no doubt that he will succeed again in his favourite competitions. Another striking thing in Cappelle-Broucke lofts: many boxes are empty… Not because of losses, which many pigeon fanciers suffered this year, but it's the desire of David "I keep only the best, I even discarded many pigeons that I had bought at a certain price! When it doesn't come, don't insist".
The method remains classical, only males are played, a light mixture at the beginning of the week and heavier at the end of the week with the tank full before basketing. You will have understood, only one watchword: select.
For this sale, David offers pigeons with a record of success as well as descendants of his best travellers, a golden opportunity to acquire real pointers!
2014's 861, younger « Mustang », twice As pigeon of Dunkerque group
Photo: one box for each couple. Everything is done to ensure sucessing.
Time to grow
The choice was made to not play youngsters, they are simply trained at 15km by the owner. When the season approaches, training is done a little more regularly and David takes the road. When we ask him if he notices a difference in not playing his youngsters he answers "In speed, at the first contests some yearlings can have more difficulties, but very quickly after 2 or 3 housings they have understood. Some pigeons are prize winners from the first competition." In this way David gives his youngsters time to grow up quietly and to acquire a certain immunity, so he's not bothered by adenovirus and other diseases.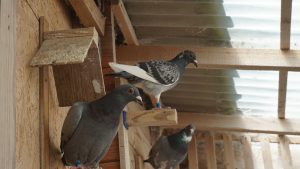 Photo: each year David reproduces his pigeons 4 times, 3 for races and one to conserve the best pigeons strains.
An Ace pigeons breeding
A rigorous selection, careful breeding and judicious investments made the loft of Cappelle-Brouck real breeding of AS pigeons. It is no coincidence that in 2021 the first three Aces pigeons of the Dunkerque group will come from this breeding.
Mustang:
– 1st Ace Pigeon 2013
– 1st Ace pigeon 2014
– 1st Ace pigeon 2015
– 1st Ace pigeon 2016
– 1st Blois 1411 pigeons
– 1st Salbris 1225 pigeons
– 1st Châteaudun 836 pigeons
– 1st Clermont 446 pigeons
– 1st Gien 506 pigeons
….
The terrible 155, golden breeder of the colony: FR-12-245155
– 1st Pontoise 1986 pigeons
– 1st Pontoise 1491 pigeons
– 1st Bellancourt 615 pigeons
– 1st Vendeuil 499 pigeons
– 2nd St-Just 1618 pigeons
– 2nd Châteaudun 1055 pigeons
The turbo FR-16-216624
– 1st Bellancourt 1624 p

– 1st Pontoise 1648 p

– 1st Albert 1590p

– 1st Clermont 1575p

– 1st Boves 1151p

– 1st Saint-Soupplet 1180p

– 1st Clermont 786p

– 1st Châteaudun 647p

– 1st Clermont 183p

– 1st Nanteuil 155p

….
2021 Championship
– 1st in the championship 1st registered old speed (Dunkerque)
– 1st at the championship 5th registered old speed (Dunkerque)
– 1st at the championship at the most prizes old speed (Dunkerque)
– 1st Ace pigeon 2021 Group of Dunkerque
– 2nd Ace pigeon 2021 Group of Dunkerque
– 3rd Ace pigeon 2021 Dunkerque Group
– 7th, 11th, 13th, 18th, 20th, 21st, 22nd, 23rd Ace pigeon 2021 Dunkirk Group
Louis Gustin